Introduction
Today, many free and paid domain age checker tools are available for sale online and by subscription. Many free SEO tools do offer domain age checker as one of their features, as free to users. Thus, anyone can check domain age and history or account details anytime and from anywhere online. In this tech article, I have detailed here in simple language. 
Checking domain age will be necessary for people browsing, companies, E-com site owners, bloggers, professionals, and others with an online presence via a dot extension domain or website.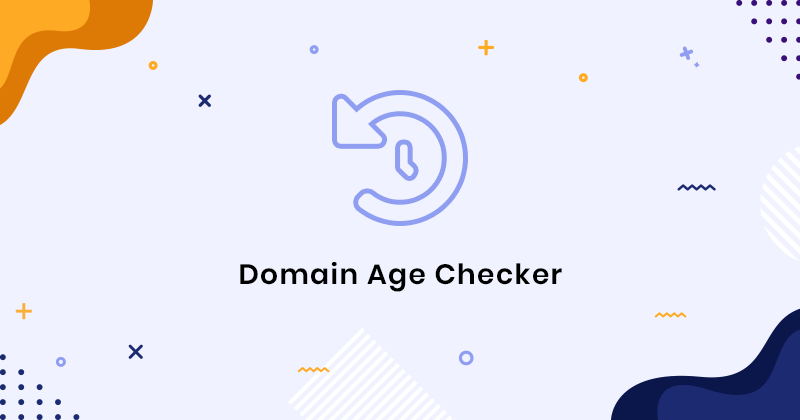 What is domain age?
Every domain has to be brought and registered with domain registries per internet laws and regulations. Thus, one has to check for domain name availability. If available, they have to register so to show their online presence for business and services or provide some information through their website. Thus, you will get an URL in your name.
Online browsers or people can check your domain history. It is called the age of a domain. It will show when it is registered and how old that domain is. You can get such information online using the latest domain age checker tools. They are available as free tools, premium, and advanced tools. 
Purpose of the Tool
Checking domain history will be vital if you own a website and competitors. Thus, you can know whether you can trust them or not. The paid and free SEO tools give you the below-mentioned purposes you wish to check on a domain age checker. 
You can know that I am the owner of a domain.
You can know the right age or the day a domain is active online by checking the age of a domain.
You can know their server partners.
If you wish to contact their admin or technical team, you can find their contact details on the best domain age checker tools with such features.
You can get the domain owner's contact details. 
Existing domain owners can know the age of their competitors for any analysis they wish to do.
If you wish to buy a domain, a domain with a more significant age will have more value than the new one. 
How to use it?
If you are new, try the Codexcoach domain age checker. It is user-friendly, and anyone can try it anytime and from anywhere with any internet-enabled device like a desktop, laptop, Smartphone, or tablet. 
First, be ready with the URL or domain name you wish to know the age of.
Now open a paid or free domain age checker tool online.
You must copy and paste the URL link on the domain age finder search bar.
Next, press enters to check the age.
You will get the result of the URL within seconds.
The result is ready; you can take a screenshot or print it out for future reference. 
Why is our tool popular?
Codexcoach is the best for anyone new to SEO tools. They give education and training online 24 hours a. Thus if you need to learn how to use domain age checker for free, their platform is the best to learn online. Their site is free and gives results within a fraction of a second. It is accessible to all global locations without any technical errors. 
Why is it essential for SEOs?
Search engine optimization, or SEO, is an ongoing process for website owners. Time and again, they must check their domain and competitors for market research and SEO analysis and know the new players overall on the World Wide Web. If you wish to buy a new domain, it will help if you select the one which is registered too long back. Such a domain will have more indexing than the new domain.
As a domain ages, indexing is essential to bring it to the top of search engine result pages or SERPs.
An old domain is worthier than a new domain if you wish to buy.
Checking domain age and history is the best to know the overall credibility of that domain by using the trusted domain age checker tool.
Website owners can update and renew any information necessary as aging starts or near the expiry date.
Using a paid or premium domain age checker tool is the best to use by SEO professionals. They can use for blog sites, websites, and any site with a different extension.
FAQs
Can I sell my domain, and if so, what will be my domain history?
Yes, you can sell your domain if you do not want it or seeking a higher price for your domain name. Domains have to be renewed when their terms are over. Thus, it would help if you sold your domain within the expiry date.
Do free and paid domain age checkers show the same result?
Yes, the free and paid domain age checker shows the same age results. The paid tools will have additional features to know the name of the owners, their contact details, IP address, or complete history from day one of registration.
Which is the best domain age checker as of now, free today?
The CodexCoach is 100% free to global users as of today. Anyone can access it via desktop and mobile versions online. You can check any domain age even without becoming a member. 
Was this article helpful?